BHP Billiton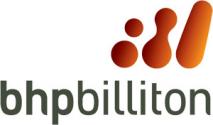 Stock Exchange / Sharemarket
Australian Securities Exchange
BHP Billiton is a single combined company comprised of two legal entities: BHP Billiton Limited (as traded on the Australian Stock Exchange [ASX] as ticker code BHP) ad BHP Billiton Plc (as traded on the London Stock Exchange [LSE] as ticker code BLT). The company is an exporter of metallurgical coal for the steel industry; an exporter of energy coal; a producer of iron ore, copper, nickel, manganese ore, primary aluminums, and manganese and chrome ferroalloys. It also has substantial interests in oil, gas, liquefied natural gas (LNG), diamonds, silver, and titanium minerals.
BHP Billiton operates through nine segments: stainless steel, base metals, petroleum, aluminum, iron ore, energy coal, metallurgical coal and diamonds and specialty products.
BHP Stainless Steel
This segment of BHP Billiton produces nickel and cobalt at Yabulu and Nickle West in Australia and ferronickel in Columbia, South America. The mining conglomerate supplies nickel products to the global steel industry and also supplies nickel and cobalt to specialty alloy,foundry, chemicals, and refractory material industries.
BHP Base Metals
This segment of BHP Billiton extracts base metals such as copper, silver, lead, zinc and gold. Assets which produce these base metals include: Escondida copper mine in northern Chile, the Cerro Colorado copper mine in northern Chile, Antamina copper mine in Peru, and the Cannington mine (with silver, lead and zinc ores) in Australia.
BHP Petroleum
The BHP Billiton Petroleum segment involves oil and natural gas exploration, production and development in Australia, the UK, the US, Algeria, Trinidad and Tobago, and Pakistan. The company also has an international exploration and development program as well as markets crude oil, condensate, liquefied petroleum gases, natural gas and liquefied natural gas to customers globally.
BHP Aluminum
The segment of BHP dealing with Aluminum produces aluminum, bauxite and alumina. The company has four aluminum smelters in South Africa, Mozambique and Brazil, three alumina refineries and three bauxite mining operations in Australia, Suriname and Brazil.
BHP Iron Ore
BHP iron ore segment has its operations primarily located in Western Australia and Brazil.
BHP Billiton Energy Coal
The BHP Billiton Energy Coal segment produces, markets, and exports thermal coal. The company operates five coal mines through its wholly owned subsidiary, Ingwe Collieries, in the Witbank
coalfield region of the Mpumalanga Province in South Africa. The five coal mines are Douglas, Khutala,
Koornfontein, Middelburg, and Optimum.
BHP Billiton Metallurgical Coal
BHP Billiton Metallurgical Coal segment is one of the largest global suppliers of seaborne traded hard coking coal. It primarily produces and markets hard coking coals for the global steel industry. BHP Billiton's manganese operations produce a combination of ores, alloys and metal from sites in South Africa and Australia.
BHP Billiton Diamonds and Specialty Products
BHP Billiton Diamonds and Specialty Products segments produce diamonds and titanium minerals. Eighty percent owned Ekati Diamond Mine is located in the Canadian Northwest Territories and produces approximately four million carats of rough diamonds annually. It sells polished diamonds, manufactured through contract polishing arrangements, through its CanadaMark and AURIAS brands. BHP Billiton owns 50% of Richards Bay Minerals (RBM), heavy mineral sands mine and smelter situated in northern KwaZulu-Natal, South Africa. RBM is a major producer of titania slag, high purity pig iron, rutile and zircon.
BHP Billiton History
BHP was conceived in 1885 while Billiton was founded in 1860. BHP Billiton was formed in 2001 after a merger of Australian BHP and British Billiton.
Marius Kloppers came on board as Chief Executive Officer of BHP Billiton on 1 October 2007. The Executive Board had conducted an extensive global search to ensure they identified the best possible candidate to succeed Chip Goodyear.
BHP Billiton Products and Services
BHP is the largest natural resources company in the world. The company's products and services include exploration and production.
Aluminum products:

Primary aluminum
Extrusion billet
Rolling slab
Wire rod
Alumina
Bauxite

Base metals:

Copper concentrates
Copper cathodes
Lead concentrates
Zinc concentrates
Uranium oxide

Carbon steel materials:

Iron ore
Metallurgical coal
Manganese

Diamonds and specialty products:

Titanium slag
Rutile
Zircon
Diamonds
Energy coal
Petroleum:
Oil condensate
Gas products

Stainless steel materials:

Nickel
Ferronickel
Cobalt
BHP Competitors
BHP Billiton Locations and Subsidiaries
BHP Billiton Head Office
180 Lonsdale Street
Melbourne, Victoria 3000
AUSTRALIA
P:61 3 9609 3333
F:61 3 9609 3015
BHP Billiton South Africa
6 Hollard Street
Johannesburg 2001
South Africa
BHP Billiton United States Office
Suite 150, 1360 Post Oak Boulevard
Houston, Texas 77056 3020
USA
Company Website
BHP Billiton Share Price
ASX GICS Sector Company List
tags in Australian Companies