ASX Glitch Trading Halt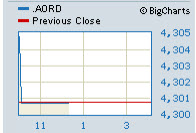 The Australian stock market, the Australian Securities Exchange (ASX) has been hit by a technical glitch and has imposed a trading halt an all trades. The suspension of trading comes at a time when many companies are holding AGMs, announcing full year results as well as a release of another European bailout deal. Sky News has reported that up to 6700 trades were completed before the halt. The last technical glitch was in February 28, 2011.
The nature of the problem is not known, leaving stock market investors unable to act on profit results and the latest economic developments in Europe.
ASX GICS Sector Company List
tags in Australian Companies