Aussie Dollar 24 Year Record High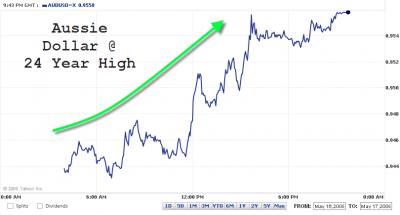 The Aussie dollar hit a 24-year high this morning against the US dollar greenback. At 7am local Sydney time, the Australian dollar was trading at $US0.9565, up more than one US cent from Friday's close of 0.9434. This means imports like electronics and other products from overseas are cheaper. The Australian dollar has more buying power overseas so it is a perfect time to travel or buy up foreign currency, especially the US Dollar. The Australian dollar gained strength after the Reuters/University of Michigan consumer sentiment index for May, out on Friday, produced its weakest reading since June 1980. The monthly index fell 3.1 points to 59.5.
The ultimate breakthrough for the Australian dollar would be parity: there are three factors to consider - which haven't resulted in the dollar hitting US$1 = $1 AUD. The Aussie dollar is viewed as a speculative buy in the global currency markets as it is a high yielding currency - but the dollar remains 5 cents away from the dollar. Also high demand for our commodities and the high worldwide commodity prices have failed to influence the dollar to parity. Finally the factor of Reserve Bank of Australia (RBA) interest rates is yet to be determined. The RBA has clearly stated their position that they have been expecting the economy to slow down after multiple rate rises.