Paladin Energy (PDN)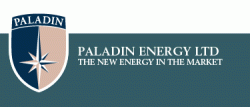 Stock Exchange / Sharemarket
Paladin Energy (PDN) is a mineral exploration company principally engaged in the acquisition and development of uranium projects in Africa and Australia, as well as evaluation and acquisition opportunities all over the world. The company has listings on the Australian Stock Exchange, the Toronto Stock Exchange and the Namibian Stock Exchange. On ASX it was listed on 29 March, 1994. The company owns major JORC-compliant uranium projects in Australia and Africa, comprising the Langer Heinrich Project situated in Namibia, the Kayelekera Project in Malawi, the Valhalla and Skal deposits in Queensland and the Manyingee and Oobagamba projects situated in Western Australia.
Paladin's Langer Heinrich Uranium Mine in Namibia is owned 100% by the company through its wholly owned subsidiary, Langer Heinrich Uranium (Pty) Ltd. The mine is expected to have a targeted annual production of 2.6 million pounds U3O8 and a minimum project life on current reserves of 17 years. The construction of Langer Heinrich Uranium project began in September 2005. Paladin acquired 14.34% of Deep Yellow Ltd during fiscal 2007. As of June 1, 2007, it took over a 81.9 % interest in Summit Resources Ltd. Paladin disposed of Tarquin Investments (Pty) Ltd on February 15 , 2007. On September 7, 2006, it gained a controlling interest in Valhalla Uranium Ltd . The Company gained government development approvals for its Company's Kayelekera Project in Malawi and its construction is well underway with likely commencement of production end 2008. The Company's Langer Heinrich Uranium Mine and Kayelekera Projects are consudered as the two most advanced uranium projects in Southern Africa.
Paladin Energy History
In 1993 Paladin Energy (PDN) floated after taking over uranium assets and key staff from German company Uranerz. For 10 years, PDN had been focused to develop a uranium mine. In 2002, the company purchased the Langer Heinrich Project from ASX-listed company Acclaim Resources. After the acquirment of Langer Heinrich the company decided to focus on its Western Australian projects.
Paladin Energy (PDN) Products and Services
Paladin Energy Competitors
Paladin Energy (PDN) Locations and Subsidiaries
Paladin Energy Head Office
Level 1, 26 Railway Rd
Subiaco WA 6008
Phone: (08) 9381 4366
Fax: (08) 9381 4978
Paladin Energy Subsidiaries
Tarquin Investments (Pty) Ltd
Paladin Finance Limited
Eden Creek Pty Ltd
Paladin (Africa) Limited
Langer Heinrich Uranium (Pty) Ltd
Paladin Energy Minerals NL
Other Paladin Energy Details
Paladin Energy Year Established: 1993
ACN: 061 681 098
D-U-N-S: 758052740
ABN: 47061681098
Previous Company Names: Paladin Resources NL; Paladin Resources Limited
Company Website
Paladin Energy (PDN) Share Price
ASX GICS Sector Company List
tags in Australian Companies