Australian Dollar Soaring High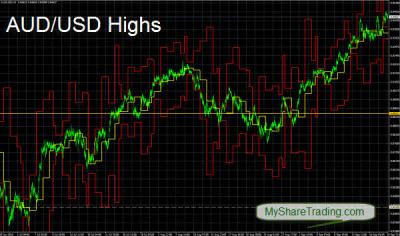 The Australian dollar is soaring high, with the AUD/USD cross rate reaching a high of 94.94 US cents just after midnight Sydney time, topping the two year record achieved on Friday of 94.69 US cents. In the past three years, the Australian dollar had averaged at 84.6 US cents. The Australian dollar hasn't seen these price levels since it reached a 24 year record in 2008.
The Aussie dollar received a boost from Reserve Bank of Australia (RBA) governor Glenn Stevens commenting that local interest rates were likely to rise. A higher interest rate increases international investor demand for the Australian dollar which results in a rising AUD. The RBA is scheduled to release the minutes of its board meeting where they had chosen to keep the official cash rate at 4.5 percent. The notes of these minutes have the power to influence the Aussie dollar.
Gold is another security seeing record highs. Gold futures for December delivery increased to $US3.30, or 0.3 per cent, to settle at $US1280.80 an ounce on the Comex in New York. Earlier, the gold price reached a record $US1285.20. Gold for immediate delivery climbed to an all-time high of $US1283.80. Gold is traditionally bought as a hedge against rising consumer prices (inflation).
There is a theory that the US stimulus programs aimed to grow the US economy may erode the value of the US dollar and boost demand for alternative investments such as gold and the Australian currency. Later tonight, the US Federal Reserve may suggest the need to inject more stimulus into the US economy.
For you technical chartists out there wondering what the technical indicator the chart is showing: Here is a larger screenshot of the AUD/USD chart above. The red and yellow lines are a custom Average True Range (ATR) indicator and is traded on the theory that when price reaches an extreme point, price always regresses back to the mean. The indicator doesn't get too many triggers as you can observe on the chart.