Jobs in the Stockmarket Industry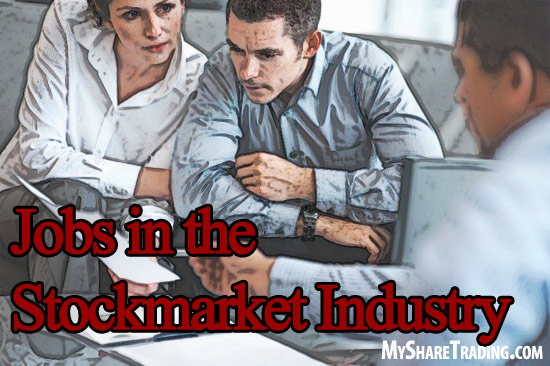 Looking to plan out your future career in the financial industry, or more specifically in a job which is within the stockmarket ecosystem? This article is for school students and school leavers, university students and other s who would like to retrain and seek a new career. The stockmarket may interest you in terms of how it operates and how it generates wealth for its participants. Almost all Australians are invested in the sharemarket since Superannuation is compulsory and most super funds are heavily invested in public companies listed on the stock exchange (that is unless you've deliberately chosen an investments strategy with your own super which doesn't invest into the ASX).
Having to work in the stockmarket and financial industry can be emotionally draining or personally fulfilling depending on what your personal goals, expectations and the job you are seeking. You should seek out a job which properly matches your goals, personality and interests. This would certainly help you enjoy your job as well as thrive and succeed with it. If you are a loving and caring person who likes to tend to the needs of your family and aren't really interested in dealing with money or basic budgeting then you probably want to reconsider your career options. Don't get me wrong, I'm not saying that there are cold uncaring people in the financial industry, but certain people's interests typically lend themselves more to different career paths where they would find more happiness and success. If you're ambitious, love numbers, love to follow rules (or enforce them) or like to take calculated risks then a few select stockmarket related jobs may be of interest to you.
The stockmarket ecosystem is governed by a few areas of expertise. There are the stockbrokers who facilitate the trading process. Then there are the lawyers who check that everything is legal and above board in regards to following market listing rules, information releases and other trading rules. Then there are the enforcers of the law – which is ASIC (Australian Securities and Investments Commission). Then there are the bean counters, who count the profits and losses of the individual companies who need to report accurate numbers to the market as well as the individual accountants and financial planners of the retail investors who choose to invest in the sharemarket.
Here are some career options you may want to consider when you choose your university or TAFE courses if you would like to follow a career path within the financial markets.
Lawyer: There are plenty of lawyers which operate within the stockbroking industry. There are corporate lawyers who work in-house within companies to ensure the company is following the laws of each jurisdiction the company has a presence in. There are corporate lawyers involved within the ASX which monitor news releases and listing procedures. There are also lawyers which facilitate Mergers & Acquisitions (M&A).
Financial Planners: typically assist the retail public with their personal financial goals through planning, provide advice and monitor investments. Financial planners start their consultations with private individuals with a questionnaire from which the planner can advise them for all areas of personal finance, including taxation, retirement, superannuation, insurance and estate planning.
Accountants: are the bean counters. They keep track of money for individuals and for companies. They analyse numbers and give advice as well as help with compliance with relevant financial and taxation laws. There are a variety of different types of positions that accountants can hold such as, an auditor who checks financial statements for accuracy; A budget accountant; a Cost Accountant; a financial manager, forensic accountant, an investment analyst who researches the value of companies and investigates business being bought and sold for their retail or in-house clients; a Liquidator and Receiver who gets involved when businesses are in crisis and organises company closures in line with legal requirements;; and tax agents who does your tax returns.
Stock Brokers: perform transactions on the stockmarket on behalf of clients. Depending on the level of service provided, they may facilitate the trades via an online low cost platform or offer a full service complete with advise on which stocks to buy and sell. A related occupation is a commodities trader who trades on behalf of buyers or sellers of commodities through private or public markets.
Stockbroker's Assistant: helps the stock brokers facilitate their transactions. This includes: processing transactions, corporate actions, confirmations, settlements, reconciliations and collateral management.
Economists research and analyse markets, depending on the specific area they are assigned to. They provide forecasts and predictions based on their research as well as provide advice to government policy, study the effects of government policy on the markets and the general economy.
Company Secretary is a role which ensures a company abides by its legal and regulatory obligations related to the public company operation (stock exchange listing rules and ASIC regulations) as well as execute board decisions.
Management Consultants provide a variety of advisory roles on many levels. Their advice revolves around management challenges and opportunities. They would analyse the problems, give options to solve the problems or solutions to take advantage of any opportunities then they would probably assist in the implementation of these problems.
As the markets are typically operated by automated systems, IT departments build these systems from scratch according to market requirements. Computer Systems Auditors give advice in the accuracy, implementation and operations of these computer systems.
An Actuaries: use mathematics and analysis via statistical data to predict and assess long term risks in terms of business financial decisions and planning. They are usually found in insurance companies as they analyse risk factors which relate to life insurance and other insurance policies.
Investment bankers handle large financial transactions between corporations and commercial entities and they are involved with the stock market, publicly listed companies and corporate lending.
Those are a few selected jobs within the stockmarket industry.